20 Dec

40TUDE – ALPES MARITIMES – 28th Sept to 2nd Oct 2022
40TUDE - ALPES MARITIMES


September 28, 2022 - October 2, 2022




8:00 am - 5:00 pm
In 2022 40tude will be returning to France, where its cycling events first began, for a spectacular ride through Provence and the Alpes Maritimes.  The routes will have something for those who just want to enjoy the beautiful countryside, something for those who want to challenge themselves in the tyre tread of the professionals, and everyone in-between.
The Alpes Maritimes lie between the perfume famous town of Grasse to the west, and Menton, Monaco and Nice to the south. In the middle of it all are Natural Parks, National Parks, idyllic Provençal scenery and a cycling playground second to none.  This is a 3 ½ day route going from Saint-Maximin-de-la-St-Baume and finishing in Nice where the Tour de France started in 2020.
Other Highlights:
The Cote d'Azur and the French Riviera
The Grand Corniche
Tour de France 2020 Grand Depart
UCI Race Stages
Parts of the Paris to Nice Race
Cat 3,2,1 & Hors Categorie climbs
We will follow the usual successful formula of three route options a day each of different difficulties, with fully- guided riding with pie guides. Included will be support vehicles, medics, transport of bikes to the start and back, pie guides, group airport transfers, a minimum of 3 food and drink stops a day, post ride food, excellent evening meals with drinks and accommodation, one cycle jersey, finish celebrations, and amazing cycling. Excludes flights.
Average slope 6.7 %; Maximum slope 10 %; Length 13.6 km; Altitude top 925m
Dates:
September 28th – October 2nd 2022
Cost per person:
The event price is £1650 plus £250 minimum sponsorship for 40tude (see more detail below).
Itinerary
Day 1 – Warm up
Flight into Nice (1 ½ hour transfer). There will be a single group transfer from the airport to the Bastide du Calalou, where we will be staying. We'll have lunch in the coach to allow us enough time for our warm up ride when we arrive.  As usual we have three routes on offer, all of which head west from the town of  the town then head north west towards the stunning escarpment on the southern flank of the Montagne Sainte- Victoire. Due east of here is Aix en Provence so we are firmly in south Provence.
Dinner and accommodation in the Bastide-du-calalou. Please note all accommodation will be confirmed after the recce.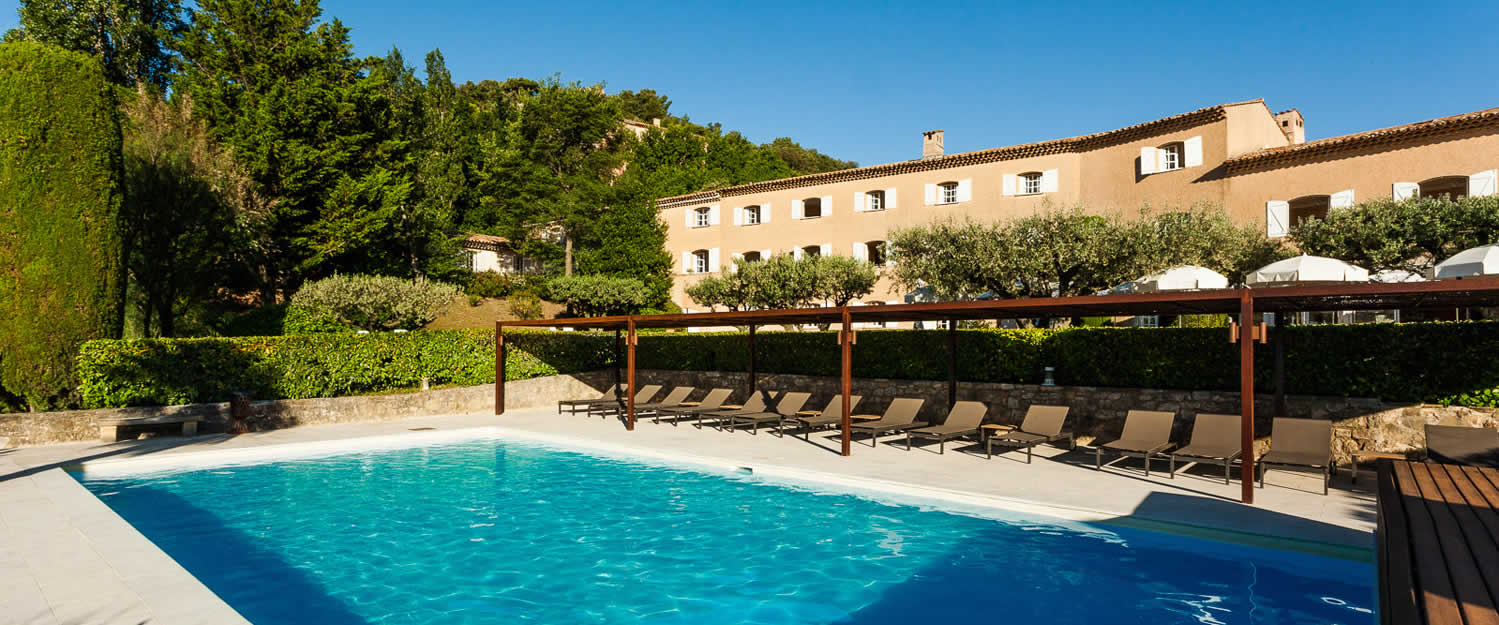 Day 2 – St Maximin to Caillan
The area between St Maximin and Caillan is made up of rolling hills. Caillan is one of a series of "perched villages" along with Seillans, Tourrettes, and Fayence. These villages are perched high on a rocky crag with impressive views of the surrounding countryside. Usually built with defence and fortification in mind they have narrow entrances, steep winding steps and tall houses built out of local stone giving a local feel to the village.
The roads here are largely quiet with only the occasional passing cyclist also enjoying the views.
Through this stunning area comes the Paris Nice race. Although this stage includes a Cat 2 and Cat 3 climb, they are almost unnoticeable, they are so gentle. If you would like a stunning but easier riding day 2 choose the Challenging group, for which the highest climb of the day is just 200m. By and large the three routes today stay quite close together.
Dinner and accommodation in Domaine de Camiole, Caillan.
Day 3 – Caillan to Vence
From Caillan to Vence the routes get more and more remote, the hills get bigger and by the time you arrive in to the small town of Vence, it feels like you are re – entering civilisation. The Epic route enjoys 2 Cat 1 climbs today which the Tough route skirts around, while the Challenging route heads south to the flatter areas. Col de Vence is 9.7 kilometres and 6.6% (1st Categorie).
Dinner and accommodation in Vence.
Day 4 – Vence to Nice
As we head from Vence to Nice, the Challenging route head through Nice and on to Monaco before they head back to Nice along the Corniche. The Tough and Epic routes are drawn to Madone which is past Monaco and up into the hills.
Nice hosted the Tour de France Grand Depart in 2020. https://www.letour.fr/en/the-race/grands-departs/grand-depart-2020.  There were two stages over 2 days, hills and mountains and we borrow from both of them.
Dinner and accommodation at the Hotel Westminster Nice.
 Day 5
Free time to explore Nice until the transfer back to Nice airport.
Please note all routes are subject to change
 What's included and what's not:
 Included in the package
4 nights' twin room en suite accommodation
4 breakfasts
3 excellent picnic lunches
1 restaurant lunch
Refreshment stops in the morning and afternoon on each full riding day plus one on the Wednesday afternoon
4 x 3-course evening meals including wine
Transfers to and from the start / finish hotel from the recommended flights
Guided riding on your choice of three routes each day (numbers dependent)
Guides at a ratio of approx 1 guide to 8-10 cyclists
Support vehicles with bike spares, med kits, water, etc
Tour leaders in charge of the logistics of the ride
Medics
Return transfer of your bike from The Storage King, Weybridge to the start of the ride and back to Weybridge from the finish
1 bespoke Tour cycle jersey
pie water bottles
Drinks reception before dinner on the last night
Gala dinner on the last night
 Not included in the Event Price
Flights to and from Nice airport, which you will need to book
Transfer from the airport if you choose not to book the recommended flights detailed below
Transfer from the finish hotel to Nice airport
Single room supplement – available for a supplement of £295
Travel or bike insurance
Personal expenditures
Flights:
There are no flights included in your package price. Below are details of the recommended flights to and from Nice which the group transfer will be meeting. If you wish to book different flights and therefore miss the group transfer, you will need to make your own way to the hotel/airport at your own additional cost.  The transfer time from Nice airport to our start hotel is approximately 1 ½ hours
Recommended flights:
Easyjet:              2022                                                                     
Outbound         London Gatwick departure Wednesday 28th sept 08.30 arrives 11.30 EZY8351
Inbound             Nice to London Gatwick EZY8352 departure 13.00 Sunday October 2nd arrives 14.05
British Airways 2022                                                                   
Outbound         London Heathrow to Nice BA0342 wed 28th sept departs 07.55 arrives 10.50
Inbound           Nice to London Heathrow BA0333 Sunday October 2nd, departs 12.40 arrive 13.55
Friends & Family
If you would like a partner to join you on the last night for our finish celebrations, the cost of dinner, bed and breakfast, and the drinks celebration, is £199 per person for a 1/2 twin or double joining someone who is already on the ride.  A single room for someone to join you is £299 to include dinner, bed and breakfast, and the drinks celebration.
If you would like someone to join you, please get in touch: Tina@pieevents.co.uk for payment details and to check availability.
Testimonial from a Previous Rider
'The 40tude cycle events run in conjunction with pie are simply outstanding.  If I start with 40tude and the mission to raise awareness of curing colon cancer that in itself is motivational and inspiring.  Then to see the work funded by 40tude to support St. Mark's Hospital, one can only describe it as truly transformational.  The cycle rides themselves are extremely well organised with destinations, routes, hotels all hand-picked to ensure each rider can safely challenge themselves whilst enjoying the journey.  Each year we have 3 different routes so riders can choose the level of difficulty or indeed pace they want to cycle at each day.  I've made life-long friends being part of 40tude and I'm proud of everything that's been achieved by the charity and me as a cyclist'.
Steve Morrison, COO, Bridges Fund Management 
About 40tude
If you're a non-smoker in the UK, male or female, colon cancer is the most likely cancer to kill you.  1 in 15 men and 1 in 18 women are at risk of developing this type of cancer. This needn't be the case however: colon cancer is one of the easiest cancers to treat if it is detected early. The really good news is that this cancer is also preventable in nearly all patients, through regular screening.
40tude curing colon cancer is a registered charity which raises funds and promotes awareness of colon cancer. To date 40tude has raised more than £1.5 million for St Mark's Hospital in Harrow, the UK's national bowel hospital. The funds we raise support ground-breaking research targeted at improving the early diagnosis and treatment of colon cancer.
Our purpose is to transform the detection and treatment of colon cancer.  We do this in two ways:
We promote awareness of the need for people over 45 to be screened regularly for colon cancer
We raise funds to support leading-edge research programmes that will help transform the treatment of colon cancer
We achieve results through innovative partnerships with a remarkable group of participants, sponsors, donors and medical specialists.
40tude raises funds via a series of events and physical challenges.  40tude's Alpes Maritimes Cycle Challenge will also help to raise vital awareness of colon cancer and the importance of actively getting screened regularly, from your mid-40s, for this preventable type of cancer.  Together we can make a very real difference to the number of people affected by colon cancer, saving lives.
For more information about colon cancer, current screening options and 40tude's activities and challenges, please see our website at www.40tude.org.uk
 Corporate Event Sponsorship:
This Tour raises money for 40tude curing colon cancer (Registered Charity Number 1160500).
Sponsorship of the tour, kit, drinks, meals, guides etc is very much welcomed.  Any such support enables 40tude to commit more funds to inspiring bespoke 40tude-led research projects targeted at the early diagnosis and treatment of colon cancer, which without your help would not move forward.
Please contact Kate at 40tude for more information:  kate@40tude.org.uk
Fundraising for 40tude:
This cycle challenge is one of 40tude's main annual fundraising events. We ask participants to commit to raise (or donate) a minimum of £250 per head. Ideally, if this is raised in the form of sponsorship, this will allow the participant to communicate 40tude's core messages of raising awareness of colon cancer and the benefits of screening to a wider audience than we could otherwise reach.
We appreciate there is huge variety in the amount individuals are able to raise, but across 40tude's previous events participants usually manage to raise around £1,000 per head.
If you feel unable to commit to raise a minimum of £250 but would still like to participate please contact Kate@40tude.org.uk and the trustees will review the particular circumstances.
The easiest way to fundraise for 40tude is to set up a personal page on 40tude's website at www.40tude.org.uk.  Please contact Kate for details as to how to do this.
 Cycling jerseys:
You will receive an exclusive Tour cycle jersey on arrival in France. Following the success of the last 2 years jerseys these will once again be sourced through Le Col. www.lecol.cc. These high quality jerseys are made by Italians (and for Italians). For that reason, we have given you the sizing charts so you can make your own decisions about what size you would like. If you are happy with "Race" fit that is fine. If you would prefer a little more comfort, go up a size. Please advise on your registration form which size you would like:
Who are pie?
pie are unique in the industry offering only bespoke guided rides for companies, charities and groups of individuals.
Looking After You
The route has been fully recce'd and will be along smaller roads making the cycling fun as well as challenging.  The ride is fully supported with guides at a ratio of one guide to 8-10 cyclists, support vehicles, tour leaders and medics. Each day you will receive breakfast at the hotel before setting off, morning and afternoon refreshment stops while on the ride, a substantial lunch, post ride snacks, dinner and twin room accommodation each night.
pie Guides
The 40tude cycle ride is a guided ride with groups being led by pie guides who are familiar with the terrain and who help all abilities complete the challenge:
We offer guided rides to make sure we offer the very best care to our cyclists
All of our guides are experienced cyclists. They range from ex-professional racers to keen amateurs and all are very used to guiding groups of differing abilities, experience and skill
All of our guides will navigate their small group of 8 – 10 cyclists, from start to finish
They are on hand to do mechanical work so there is no waiting around for a mechanic's van
Many pie guides are first aid trained
Cyclists can change groups (up or down) during the day where the routes overlap
 Strava
We have set up a Strava "club" for the bike ride. The link will be sent to you when you sign up.
If you have already got a personal Strava account you can just log on using the link we will send, join the 40tude "club" and start your training with other 40tude cyclists.
If you don't have a Strava account, simply enter your details in the "Sign Up for Free" section on Strava.
Don't be daunted by the leader board and other people's fast times. We offer three different routes and, with five different guides we will be offering 5 different speeds as well, so there is something for everyone.
Social Media
Follow us at #40tudeCycleFrance #40tudeAlpesMaritimes2022 #bespokeguidedrides
How to book your place
To sign up for the 40tude Cycle Challenge 2022 register using the Registration button below.  Places are limited so please don't delay to avoid disappointment!
Payment:
The payment schedule for this cycle challenge is as follows:
Deposit: a non-refundable deposit of £400 is payable to pie at the time of registration to secure your place (contact Tina@pieevents.co.uk to be sent information on BACS and cheque payments).
Balance payment: The final balance for the Tour will be requested 10 weeks before departure. Once it is due this balance payment will also be non-refundable, unless pie or 40tude are able to allocate the place to another rider more than 2 weeks away from departure date.  If a participant cancels, for whatever reason, the monies paid to pie may, under some circumstances be refunded to the individual depending on the date of cancellation. pie are unable to pass on money to the charity that has been received from individuals.
If you are signing up 10 weeks before departure or less, please pay the £1,650 in full.
Terms and conditions are in the Registration Form.  Please read them carefully before registering.
Method of Payment:
There are 3 payment options:
First option is to pay £400 deposit by cheque or BACS (please contact us for details: tina@pieevents.co.uk) – click the £0 option below
Second option is to pay £400 online using the button below
Finally, the third option is to pay in full amount of £1650 by Bacs or cheque – (please contact us for details: tina@pieevents.co.uk) click the £0 option below
If you are signing up 10 weeks before departure or less, please pay the £1650 in full.
If you would like a single room, please call (01932 46 00 90) or email (Tina@pieevents.co.uk) us first as availability is limited.
We look forward to seeing you in Provence!